Biography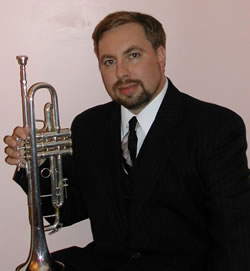 Among trumpet players, David is known for a mellow, quiet, unassuming playing style. It's not true, of course—God never made a modest trumpet player—but years of playing in small venues with singers has honed his control at low volumes and his skill at matching a singer's phrasing. On a fanfare or with a plunger, it's a different story.
David made history in 2003 as part of the Atlanta Shakespeare Company's production of the original miniseries, the history plays spanning Richard II through Henry VI. At local theatres, David has performed his popular role of "trumpet player with no lines" in a dozen productions of musicals. He has played weddings and performed with various church choirs and the Georgia Philharmonic Chorus. His trumpet appears on CDs recorded at local studios in a variety of styles. Around town, you can catch David playing jazz with the After Hours Quintet, Kind of Blue, and Play It With Moxie. Bands have performed at Hartsfield-Jackson Airport, numerous city music festivals, receptions for the Georgia Philharmonic, benefits for the Cobb County Library, and the I Do Bridal Show.
David studied trumpet with a number of private teachers. He briefly studied theory and composition at Jacksonville University in Florida, and he continues his education today. While still in high school he composed choral anthems and premiered his first four-movement symphony. In college he did arrangements for the marching band and jazz band, and today he does some arrangements for his bands. He also performs Taps at memorial services for veterans.
Skills
Arranging
Producing
Session Work