Digital Press Kit
---
BIO
Mr. Rood began performing at age 12 in church services, at a wedding, and in Brenau college's production of The Wizard of Oz. He continued performing in churches and theatres, including the 1986 production of 1940s Radio Hour at Marietta's Theatre in the Square; the Atlanta Shakespeare Company's groundbreaking History Project; and Cabaret and A Funny Thing Happened on the Way to the Forum, also at the Shakespeare Tavern.
In the studio, Mr. Rood recorded trumpet tracks for local artists including Dr. Mary Crowell, author Adam Selzer, and the Georgia Festival Chorus. As a member of the After Hours Quintet, he has performed for private parties, Hartsfield-Jackson Airport, the Georgia Philharmonic, and been featured in Comcast Studio's Atlanta Jazz and Blues.
Mr. Rood began composing in earnest with the premier of his first Symphony, The Elements and the choral anthem Scion of Hope in 1986. He went on to compose and record the soundtrack for the stories of Mr. Ralph Norris and pieces for jazz ensemble. From 1984-1991 he was busy as an arranger for school marching bands, wind ensembles, and jazz ensembles. He has since done work for community and volunteer bands, and he does the horn section charts for the swing dance band Play It With Moxie.
In 1980-81 Mr. Rood took classes in music theory and lessons in piano and trumpet at Brenau College. He took private trumpet lessons from several teachers. In 1987-88 he studied Composition and Electronic Music at Jacksonville University.
In 2003 Mr. Rood joined Play It With Moxie, a torch song and swing/blues dance band. In 2004 he joined the After Hours Quintet, playing straight-ahead instrumental jazz for receptions, restaurants and private parties. In 2010 he began playing with Moxie bandmates George Powell and Derek Lee as the jazz trio Kind of Blue. Beginning in 2011, he has played Taps for veterans as a member of the volunteer group Bugles Across America.
Mr. Rood was the producer of the CD Play It With Moxie Live! released in 2012. he plans to follow that with more music and video recordings of his bands. He also intends to present more original music. Each year he hopes to play more weddings than funerals. In 2013 he intends to pursue additional arranging work and piano playing.
---
PHOTOS
Click thumbnail to access high-resolution version of photo.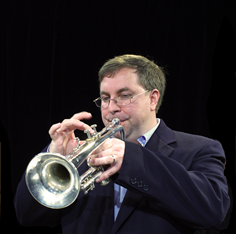 ---
MUSIC
---
VIDEOS
---
EVENTS
---
BOOKING